[text_bar_2_left + width="100%"]Enagic® Leveluk SD501 Platinum Review[/text_bar_2_left]
Enagic® has recently released it's new model the Leveluk™ SD501 Platinum. This model has all the features and benefits of the previous version, Leveluk SD501 but with a brand new look, a silver body and case. However does the Leveluk™ SD501 have any brand new technology to bring to the table to compete against other ionizers on the market?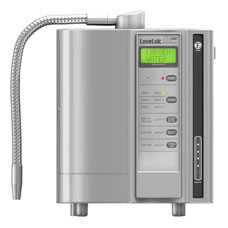 The Leveluk™ SD501 has been totally revamped from a aesthetics point of view with the new stylish stainless steel housing to match in with the latest looks in kitchens. Enagic are hoping that the new Leveluk™ SD501 Platinum model will improve sales with it's new image.
It has the same electrolysis chamber as it's predecessor, same number of plates and a larger LCD screen. Enagic® still offer the 5 YEAR Warranty on the Leveluk™ SD501 Platinum.
The Leveluk™ SD501 Platinum sells for approx $4280 in the USA.
[text_bar_2_left + width="100%"]Let's look at the specifications[/text_bar_2_left]
info on metformin helps weight loss
Model name / number
Leveluk SD501 PLATINUM
Water source connection
1-way diverter (TAP/ION) connects to the end of faucet
Power Supply
AC 120V, 60Hz (with ground)
Power consumption
Approx. 230W (under maximum electrolysis function)
System
Continuous Ionized Electrolysis Water Generator System (with built-in flow rate sensor)
Production rate (gallon(s)/minute)

Alkaline Water: 1.2-2.0
Acidic water: 0.4-0.7
Strong Acidic water: 0.16-0.3

Level Selections

Alkaline water / 3 levels (approx. pH 8.5-9.5)
Clean water (pH 7)
Acidic water (approx. pH 5.5-6.5)
Strong Acidic water (approx. pH 2.4-2.7)
Strong Acidic water (approx. pH 11.0)

Electrolysis Capability (continuous use)
Approx. 30 min at normal room temperature
Cell cleaning method
Auto cleaning system (periodically controlled by microcomputer)
Applicable water quality and pressure
Municipally supplied drinking water: dynamic range in 100-450kPa
Electrolysis Enhancer
Forced dissolving type additive system (One time addition produces approx. 1.0-1.3 gallons of Strong Acidic water.)
Enhancer Refilling
Indicates by voice, buzzer and LCD
Protector
Current Limiter/Voltage Stabilizer/Thermal Protection
Electrode material
Platinum coated Titanium
Electrode plates
7 , Size: 135mm x 75mm
Verdict Enagic® Leveluk SD501 Platinum
(The term Enagic® is a registered trademark of Enagic® Co. Ltd.)
Disclaimer: My Alkaline Water does not distribute Enagic® products.
[sharebox4 sharetext="Share This Page"] [/sharebox4]